Corporate LMS Edition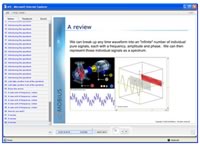 Would you prefer to access iLearnVibration via your own Learning Management System? All of the management of the training process can be managed internally. And because the training is delivered via your Intranet (LAN or WAN), it should be very fast (typically faster than your Internet connection).
What is an LMS: Do you use an internal training system to provide training to employees on topics such as safety, procedures, software operation, etc.? That system is called a Learning Management System. It delivers the training via your Intranet (LAN or WAN), and it tracks the progress of trainees. There are two standards used to develop training material: AICC and SCORM. We follow both standards, so our material should work with your LMS.
The key to successful vibration analysis is knowledge and experience, and iLearnVibration can provide both. But one training session is not enough. You need on-going training, and you need quick access to a good reference. The majority of our customers use the training module over and over again, often referring to the system once per week, or even more frequently.
Vibration analysis is a very effective method for detecting machine faults and diagnosing the nature and severity of the fault - but there sure is a lot to know. From where to place the sensor to what "sidebands" mean, there are hundreds of special terms, techniques and concepts to understand. Fortunately, our product covers the topics you need, and it presents the material in a very effective manner.
With iLearnVibration you don't have to read a thing. Just sit back and watch while the training system moves from slide to slide, reading the material to you. Throughout the material there are 3D animations, and excellent simulation/demonstrator programs that make the information very easy to understand (and more interesting to learn).
Our training will help you improve your measurement, analysis and diagnostic skills.
| Standard Edition | Web Based Edition | Corporate LMS Edition | Professional Edition | Pricing |
To ORDER or for further information, please call us at 414-218-8088 or
E-mail: jim@jlgriffin.com