| | |
| --- | --- |
| | Sales Technology, Inc. (STI) specializes in Vibration Monitoring and is a manufacturer of comprehensive Condition Monitoring and Machine Protection Solutions, and has been producing quality vibration sensors and monitoring products since 1989. |
CMCP420VT Loop Powered Vibration Transmitte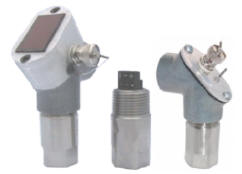 Features
Solid State Reliability
Integral Sensor
4-20 mA Output
Dynamic Signal Output The CMCP420VT is a solid state, loop powered vibration transmitter. It provides a 4-20 mA output that is proportional to overall vibration in terms of velocity. The CMCP420VT continuously monitors machinery health and transmits directly into a PLC or DCS for trending, alarm and machine shutdown. In addition, the CMCP420VT provides access to the dynamic transducer output. Portable data collector/analyzers can be utilized for detailed machine fault analysis.

Simple Installation:

Simply mount the CMCP420VT into a tapped hole in the bearing housing or machine case, connect two wires into a 4-20 mA loop, and you are ready to interface into a PLC or DCS. Electrical conduit may be connected directly to the top 3/4" NPT fitting. The CMCP420VT has a tapped 1/4"-28 UNF hole and has several adaptors to fit almost any application. If the optional LED display is ordered it is shipped loose, and is a simple installation.