ExpertALERT™ is the most advanced machinery condition assessment software available on the market today. Advanced analysis tools and our legendary automated diagnostic system.
ExpertALERT™ provides critical machinery health information instead of just vibration data, by rapidly screening vibration measurements and applying over 4,500 unique rules to identify individual faults in a wide variety of machine types.
Our proven automated machinery condition assessment system can process hundreds of vibration measurements in just a few minutes, leaving you with a fault diagnosis, fault severity and repair priortiy on each machine. Instead of overwhelming you with spectral data that may be difficult to interpret, ExpertALERT provides fast, accurate, and understandable results.
Condition Based Maintenance
A successful Condition-based or predictive maintenance program can reap many rewards: reduce maintenance costs, reduce unscheduled down time, reduce catastrophic failures, improve production, improve plant safety, etc. What does it take to run a successful program today? With all the additional pressures being placed on staff, and the demands for improved financial performance, you have to choose the right partner, the right approach, and the right tools.
Keys to a World-Class Condition Based Maintenance Program:
Simple to Learn and Operate
Automated Data Screening
Accurate Prediction of Machine Faults
Multi-level Machine Fault Severity Determination
Prioritized Repair Recommendations
Sophisticated Communications Tools for Reporting and Information Distribution

Let's face it, your job is not to play with software, endlessly study spectral graphs and wrestle with data collectors. Your job is to keep the plant running. You just don't have time for anything but the best designed tools. The DLI Engineering data collectors and software have been designed with that principle in mind. Remember, we just don't just sell vibration products, we use them ourselves.

ExpertALERT is DLI Engineering's latest generation of this highly successful automated vibration diagnostic software. The all new ExpertALERT has been developed with emphasis on the user interface. Much like Windows® Explorer, all information and functions are available from a single layer, intuitive screen. On the left a tree, to the right, selected data and information.

Database and expert system setups are made easy with new Setup Wizards. Database management, Vibration Analysis, and Expert Automated Diagnostics have never been easier.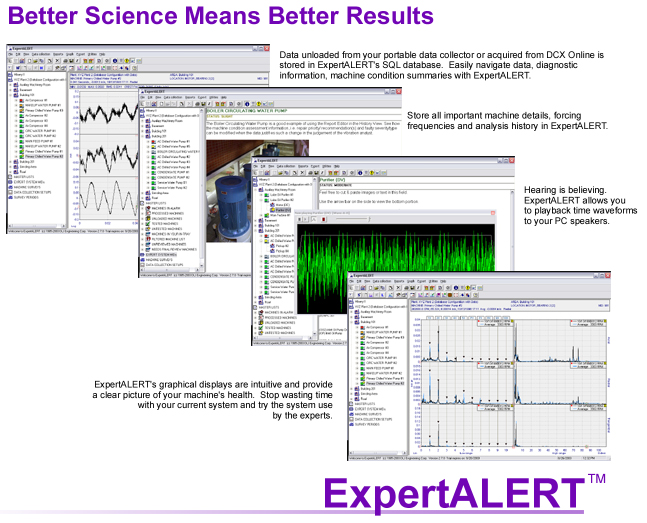 Crystal Clear The all new Windows graphical user interface provides quick access to any data in your program. The new analysis tools provide the analyst with a crystal clear picture of a machine's faults. Traditional tools such as dynamic harmonic and sideband cursors, fault frequency markers, and others have become easier to use. Results, trending and summary data are quickly accessed for any test taken over time.
A few key features of ExpertALERT:
Fast and easy system set up with advanced Setup Wizards
Rapid vibration data screening using sensitive narrow-band vibration techniques for early detection of faults
Proven diagnostic system that identifies problem machines and gives accurate diagnosis of fault(s)
Prioritized Repair Recommendations - comparable to experienced human vibration analyst in a mature program
Reduce your data analysis and diagnosis time by hours. Rather than analyzing every single spectrum collected, the expert system will give you an accurate diagnosis and recommendation, in minutes not hours
Professional, flexible report generation

Graphical Analysis

ExpertALERT is unsurpassed when it comes to graphical analysis tools. You can view spectra in single, or three per page formats. If you need to examine the data to learn more about a suspected problem, ExpertALERT will have the tool.

ExpertALERT Analysis Tools
3D Spectral Waterfall
Single Axis, Triaxial, and Double-Triax Spectral and Waveform Displays
Reference Cursor Delta Markers
Harmonic Markers - Machine View Diagram
Fault Frequency Calculation
Sideband Markers
Cepstum Analysis
Bearing Database (>9000 Bearings)
Polar Phase Plot
Auto Normalization
Integration & Differentiation
Zoom
And many more