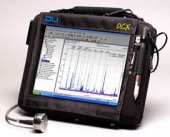 The patented DLI Watchman® DCX™ XRT is a rugged, four channel, vibration data collector that supports 4 plane dynamic balancing and advanced analysis capabilities.
DLI has developed the first platform independent portable vibration data collector with a PCMCIA data acquisition card and embedded automated diagnostic software. This means that you can now have many programs running from the same piece of hardware (just like the integration we see today with the new PDAs, laptops, and cell phones). The DLI Watchman® DCX™ XRT can multi-task as a vibration data collector, a Real Time Analyzer, a Multiplane Balancer, an Advanced Signal Analyzer and Online Monitoring System and more, simply by adding software.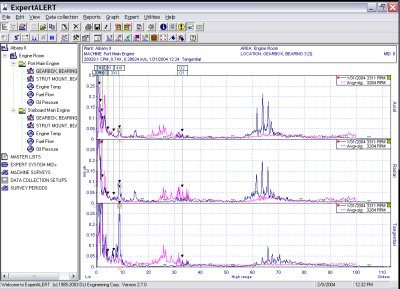 Embedded in the DCX XRT is Windows® XP Tablet operating system and DLI Engineering's popular ExpertALERT™ vibration analysis system. This is the same software system that is used on desktops around the world. It means that at the point of data collection, you have all of your machinery history, analysis tools and automated diagnostic results available to you!
The new DCX XRT employs a new pen-based computer build by Walkabout Computers, of West Palm Beach, Florida. Walkabout is well known for its "industrial strength" pen based and touch screen computers. The new Hammerhead is extra-rugged, its enclosure is milled from billet aluminum, and it can withstand the toughest plant environment up to 55 degrees C (130oF) and can even be submersed in water!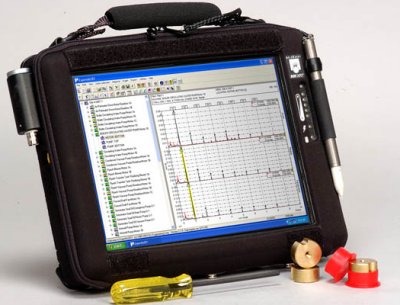 The DCX XRT is powerful, small and lightweight. It measures in at 11.25" x 8" x 1.5" and weighs just 4.6 lbs. It has two microprocessors: an Intel Pentium® III operating at 800 MHz and a Texas Instruments digital signal processor (DSP) operating at 40 MHz. The standard configuration includes 256 MB of random access memory. The operating system is Windows® XP Tablet operating system that utilizes a TFT color display with and active electronic pen. Also included are serial, parallel and USB ports and connections for an external keyboard, mouse and monitor.
Data collection is performed by simply selecting the equipment/test location from a hierarchical tree, or by pressing a graphical button on a displayed machine image or drawing. The real time analysis feature is also quite impressive. Select tri-axial data and see all three axes update simultaneously.
The DCX XRT does not require a host software system. All traditional host system functionality is integral to the DCX. The device also does not utilize data collector routes, a complete database resides on the unit's shock mounted, 40 gigabyte hard drive. This database contains all of the plant machinery setup information, previous data, diagnostic history and trends for all machines in a plant. The user can add or modify machines as well as review historical information and trends for any machine while on the plant floor.
Sharing vibration information and results has never been easier. Because the DCX is PC based, it can be connected directly to your company Network or the Internet. Database replication technology allows two or more databases anywhere in the world to be synchronized via the Internet. In the context of an Online system, this means the DCX can be monitored and controlled remotely from anywhere in the world. Data may also be shared between plant sites using portable or online systems to facilitate centralized monitoring capabilities. Finally, Using DLI's Web Connect Service, your vibration data, edited reports and trends can be made available to anyone via a standard Web browser.