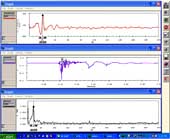 DLI's SignalAQ™, Advanced Vibration Analysis Software, received the 2001 Product of the Year Award from Plant Engineering Magazine
The AQ-204 data acquisition card is the smallest and most powerful data analyzer of its kind. When coupled with our Signal AQ software it transforms your laptop computer into a four-channel vibration analyzer. The AQ204 PC card & Signal AQ software are integral parts of the DCX™/ExpertALERT™ family of portable and online data collectors.
4 channel, simultaneous data acquisition
Advanced cross-channel analysis
Unlimited continuous time data capture
Remote, multiple client network access using Active-X technology

It is highly versatile in its PC-card, type III form-factor, meaning it can be installed into most laptop and pen-tablet computers running Windows 98 or ME. AQ-204 network support includes Active-X technology, allowing multiple software clients to simultaneously access and control its data acquisition. This means that monitoring 4 channels of simultaneous, dynamic can be remote via your LAN, WAN or the Internet.

The Right Tool for the Job

SignalAQ's rich features set it apart from the competition. The 4-channel, simultaneous data acquisition capability allows you to collect data more quickly and synchronize dynamic events. Analog integration provides much greater signal to noise ratio than our competitor's digital integration methods. Internal ICP power (feature of AQ-204) means you do not need additional power sources to use your ICP transducers. Our intuitive user interface allows easy control of the acquisition, storage and presentation of data as well as management of data acquisition "projects".

Measurements
Linear RMS Spectra
Envelope Detection Demodulation
Cross Power Spectra
Transfer Function
Time Waveform
Overall RMS
DC Measurements
Triggered Data Acquisition
Synchronous Averaging
Continuous Time Data Capture

Project Management

One of the most exciting capabilities of SignalAQ is its ability to manage your projects. Organized with a hierarchical tree, project objects are easy to manage. These objects include project description, hardware setups, specific display configuration, unlimited data sets, logical grouping of data and related graphical objects. In addition, you can drag and drop these objects from one project to another, saving project configuration and management time.