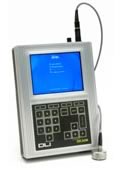 DLI's newest data collector / real time analyzer sports many of the same high quality features of DLI's other data collectors such as:

Barcode or Route Driven Data Collection
Triaxial Sensor Support
Large Color Screen and Touchpad
500+ MB Data Storage

Those who have used DLI collectors in the past will be pleased to see a new lower cost option that retains the look, feel and functionality of DLI's older products while offering even more features and options. A barcode wand is available to those who want to collect data without any hassle. Advanced features such as bode plots, orbits, full spectra, cepstra and real time modes are available for those who want to do some troubleshooting or more advanced analysis. Either way, the DCA-50 offers a unique blend of advanced features tempered with foolproof data collection options at a more than affordable price.

Additional Features of the DCA-50 include:

Optional 4 Plane Balance Software
4 Channels of Simultaneous Data Collection
Access to Baselines and Historical Data in the Field
Complete Compatibility with ExpertALERT™ Software
Excellent Graphics Interface and Graph Tools
Real Time Data Display

If you are new to Vibration Analysis or are not ready to invest in a full featured system, try our DCA-50 and StandardALERT™ package. This package offers far more bang for the buck than any other system in the same price range.

Upgrading to the AdvancedALERT™ package for a nominal fee offers the benefit of the BearingALERT™ automated bearing wear diagnostic system. BearingALERT™ combines a number of proven techniques to automatically analyze and detect rolling element bearings wear.

Of course, the DCA-50 is also 100% compatible with the popular ExpertALERT™ software. This combination allows the user to take advantage of 37 years of DLI experience in the form of the only proven expert system on the market. With ExpertALERT™ you can monitor hundreds of tests per month in an organized, efficient and accurate manner.

Whichever package you choose, we are certain you will be pleased with the DCA-50. Please download the product sheet for additional information or contact DLI or your local representative for a demonstration.