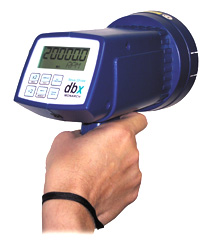 Portable
Stroboscope
Nova-Strobe x Digital Series Portable Stroboscopes
The Nova-Strobe series represents the latest in portable stroboscope technology. Both the dax and dbx offer powerful features for both diagnostic inspection and speed measurements. Lightweight and bright with flash rates to 20,000 flashes per minute, these strobes are comfortable to hold and easy to operate. Ce_logo.jpg (861 bytes)
The dbx battery operated stroboscope weighs only 1.9 lbs. (0.86 kg) and will run continuously for 2 hours on a single charge. A fast charger is included and the percentage charge remaining may be displayed. The unit is CE certified.
The dax AC powered stroboscope (115 or 230 Vac) is designed for continuous cool operation, and weighs only 1.5 lbs. (0.68 kg).
Features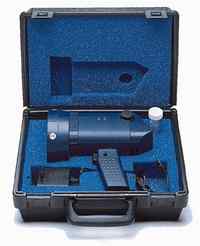 Flash rates from 30 to 20,000 flashes per minute, adjustable in 0.1 step increments, the coarse/fine adjustment knob makes it quick and easy to set the exact flash rate you want. The all digital controlled microprocessor keeps readings rock steady
dbx Kit, shown lef, includes carry case and spare lamp
Times 2 and divide by 2 push buttons allow easy checking for actual RPM, harmonics and allow stop motion far beyond the 20,000 fpm limit
Store and recall up to 6 user selectable values. Last measurement memory, even with the power off
Flash rate may be displayed in Flashes per Minute (FPM) or Flashes per Second (Hz)
Individual input and output TTL jacks (1/8 inch phone) provides power to remote sensors and allows "daisy-chaining" of multiple strobes. A Tachometer mode allows accurate speed measurement up to 250,000 RPM using external sensors.
NIST Certificate of Calibration included
Specifications
Specifications
Nova-Strobe dbx Digital, Battery
Nova-Strobe dax Digital, AC Power
Range Flashes/Minute
30-20,000 FPM / RPM
30-20,000 FPM / RPM
Display
Digital LCD
Digital LCD
Accuracy/Resolution
±0.002% of setting or +/- 1 lsd / 0.01 FPM
Flash Energy/Duration
230 mJoule (20-50 µsec)
Average Power-Watts
10W
15W
Flash Tube Life (typical)
100 million flashes
100 million flashes
External Trigger(1/8" Phone Jack)
TTL (24V Max) Provides 5V out
Tachometer Mode
5-200,000 RPM
5-200,000 RPM
Programmable Memory
Yes
Yes
Internal Phase Shift
Yes
Yes
Operating Time
(fully charged batteries)
60 minutes at 6000 FPM
N/A
Power
6 Vdc internal rechargeable batteries
115 Vac, 50-400 Hz or 220-240 Vac, 50-400 Hz
Weight
1.9 Lbs. (1.2 kg)
1.5 Lbs. (0.72 kg)
Size (L x W x H)
Body: 9" x 3.66" x 3.56" (229 x 93 x 90 mm); Reflector Housing: 4.8" (122 mm) diameter; Handle: 4.25" (108 mm) long
N.I.S.T. Certificate
Included
Included
Accessories Available for Nova-Strobe bax and bbx Stroboscopes
Please call 414-218.8088 to order accessories listed below.
| | | | | |
| --- | --- | --- | --- | --- |
| Item No. | Model | Description | CE | Price |
| 6180-057 | ROS-P | Remote Optical Sensor with 8 foot cable and mounting bracket | X | $142.00 |
| 6180-020 | IRS-P | Infrared Sensor with 8 foot cable | | $200.00 |
| 6180-017 | MT-190P | Magnetic Trigger Sensor/Amplifier with 8 foot cable | | $210.00 |
| 6280-034 | C-4027 | Set (2) mating 1/8" stereo phone plugs | | n/a |
| 6280-037 | CA-4044-6 | 6 foot input/output cable, 1/8" mono phone plug to BNC connector | | $35.00 |
| 6280-038 | CA-4045-6 | 6 ft. I/O cable, 1/8" mono phone plug to 1/8" mono phone plug | | $16.00 |
| 6280-041 | SPC-1 | Splash proof Protective Cover for battery model Stroboscopes | | $25.00 |
| 6280-022 | PSC-2U | Unviversal Recharger, 115/230 Vac with USA, U.K., AUS, Euro Adapter Plugs | X | $30.00 |
| 6280-040 | CC-7 | Plastic Latching Carrying Case | | $78.00 |
| 6180-070 | T-5 | Reflective Tape - 5 foot roll, 0.5 inch wide | | $13.00 |
| 6280-CAL | CAL-N.I.S.T. | N.I.S.T. Traceable Certificate of Calibration / Re-Calibration | | $95.00 |

Ordering Information
Please call 414-218.8088 to place an order
| | | | | |
| --- | --- | --- | --- | --- |
| Item No. | Model | Description | CE | Price |
| 6203-010 | Nova-Strobe dax 115 | Digital Stroboscope, mains powered - 30-20,000 FPM, with 115 Vac power | X | $475.00 |
| 6203-011 | Nova-Strobe dax Kit 115 | Nova-Strobe dax 115 with spare lamp in latching carrying case | X | $598.00 |
| 6203-012 | Nova-Strobe dax 230 | Same as Nova-Strobe dax 115, but with 230 Vac power | X | $525.00 |
| 6203-013 | Nova-Strobe dax Kit 230 | Same as Nova-Strobe dax Kit 115, but with 230 Vac power | X | $646.00 |
| 6204-012 | Nova-Strobe dbx 115/230 | Deluxe Stroboscope, Battery Powered, 30-20,000 FPM, with PSC-2U (115/230 Vac) Universal Recharger with USA, U.K., AUS, Euro Adapter Plugs. | X | $530.00 |
| 6204-013 | Nova-Strobe dbx Kit 115/230 | Same as 6294-012 with spare lamp in latching carrying case | X | $653.00 |