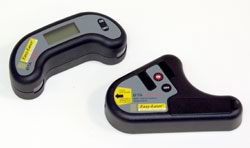 D150 BTA Digital 2
Easy Laser® BTA Digital2 is attached in a few seconds (magnets) with the laser transmitter on one of the sheaves and the detector on the other.
The transmitter generates a laser plane parallel to the reference sheave. The detector reads the position in relation to the laser plane and provides a live digital display of both offset and angular value. This makes the alignment of the adjustable machine very simple.
The accuracy of the digital readout also means that you can align within prescribed tolerances and rely on the result.
Typical applications:
Most belt/chain drives