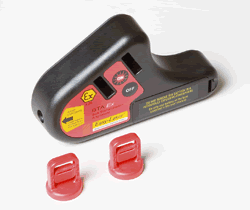 D130 BTA EX
For simple, quick alignment of belt drives.
Intrinsically safe and approved for use in potentially explosive environments.
The tool is fitted in a few seconds, and the laser line projected on the targets clearly
shows how you need to adjust the machines.
Suitable for most types of drive, such as V-belt, timing belt, flat belt and chain drives.
Can also be used on non-magnetic pulleys.
Typical applications:
Most belt/chain drives.

Approved in accordance with: EEx ib IIC T3 Ta: 10–50 °C / Ex ib IIC T3 Ta: 10–50 °C
ATEX code: II 2 G
EX certificate number: Nemko 06ATEX1235X
IECEx certificate number: IECEx NEM 06.0003X