IRcameras' Thermography Suite™ real time software is your solution for real time image recording and temperature analysis with our M-Wave and L-Wave infrared cameras.
Thermography Suite™ is a complete thermal analysis software package featuring real time data acquisition from our M-Wave and L-Wave infrared cameras. Thermography Suite™ includes an array of powerful built-in measurement and analysis functions. Infrared images, corresponding visual images, analysis functions, results and written comments are linked within the embedded unique image database.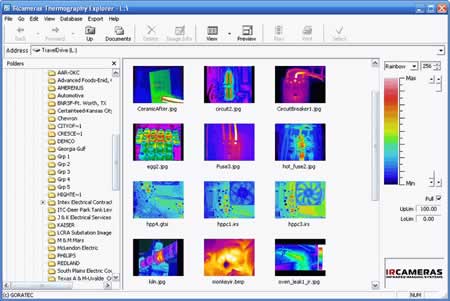 The program's clearly-structured and intuitive user interface allows you to concentrate on your research and data. A complete, detailed Help Menu guides you through your work. Even if you use Thermography Suite™ only occasionally you will be able to produce complex, meaningful and comprehensive analysis and reports of infrared imaging experiments with a minimum of time and effort.
Thermography Suite™ offers a wide range of powerful built-in analysis functions including automatic hot spot detection, multi point trend, box-line trend, area trend, isotherms, histograms, envelope profiles, line profiles, region-of-interest statistics, and many more. All analysis tools allow independent emissivity correction for regions or the complete image.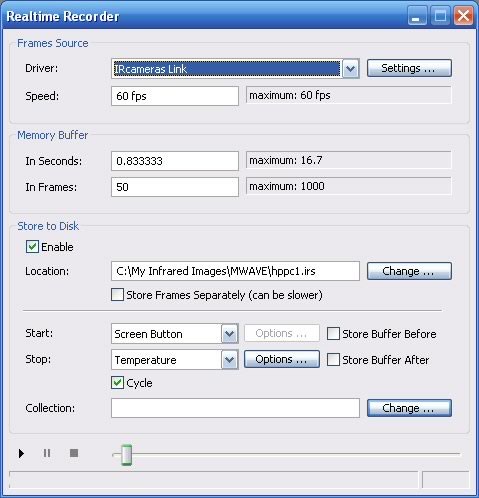 Extended analysis tools like image subtraction, image composition and sequence export (JPEG, Bitmaps, AVI clips) are also included.
In addition, Thermography Suite™ offers Real Time Recording to memory or disk. Infrared image frames can be stored separately or in a single sequence file. Recording is driven manually or by user-defined trigger conditions that can be combined with and/or conditions. Available triggers include timeout trigger,
external COM port trigger, USB sync unit trigger and temperature trigger (spot value monitoring, min/max/avg temperature monitoring). The real time recording functions stores data at the full 60Hz frame rate of our M-wave and L-Wave cameras.
Thermography Suite™ is easily customized to your requirements. A flexible multi-window screen layout, user-defined condition settings, automatic image adjustment, a unique zoom-in/zoom-out function, real-time image acquisition and online image analysis, a wide range of additional software filters and the extended compatibility for easy data exchange with various export formats provide highest flexibility and efficiency.