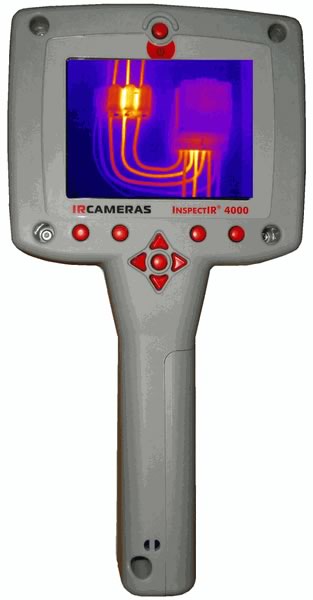 Product Features
* Low cost & simple operation
* Crisp infrared images
* Built in laser pointer
* Digital image storage to SD card
* Dual moveable spotmeters
* Region of interest measurement
* Automatic hot/cold spot tracking
* Image analysis software included
A Partial List of Applications for the InspectIR™ 4000 Low Cost Infrared Camera
* Electrical inspections
* Roof inspections
* Building envelope inspections
* Energy conservation
* Mechanical equipment
* Rotating equipment
* Insulation surveys
* Underground leaks
* Process inspections
* Environmental studies
* Research & development
* Medical imaging
* Veterinary imaging
The InspectIR™ 4000 offers outstanding thermal imaging and temperature measurement performance in an affordable and easy to use infrared camera.
The ergonomically designed infrared imager is based on a state-of-the-art uncooled microbolometer camera core which provides crisp imagery and accurate temperature measurement. A long life rechargeable Lithium-ion battery pack operates the camera for up to four hours. For ease of use the image is displayed on a large 3½" backlit color LCD. Level and span can be adjusted manually, or by utilizing the camera's automatic gain control.
Images can be captured using an SD card for recall and further analysis if required. Images can also be downloaded to a PC from the memory card or via a USB interface for analysis, report generation and printing. A built in laser pointer facilitates identification of the equipment under inspection.
The InspectIR™ 4000 is fully calibrated. Two moveable spotmeters provide temperature measurement throughout the entire image, and a centrally located region of interest displays minimum, maximum and average temperatures. Adjustable emissivity input is available to insure accurate temperature readings displayed in either degrees Fahrenheit or Celsius.